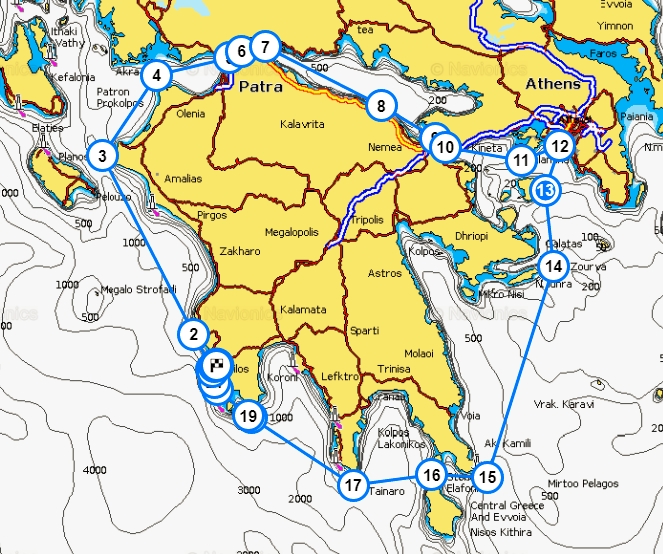 At the agreed day (1) you arrive in Pylos by looking at this page "how to get to Zephyr in the marina in Pylos".
The next day (2) is a relaxing day, where you get the time to get used to being on Zephyr and we talk about the trip. You're free to do whatever you like.
Look around in Pylos, visit the castle of Nestor, visit the beach of Gialova (bus), walk around the lagoon of Navarino and climb up to the castle and the Nestor Cave.
Since the whole trip is based on people that have no sailing experinece, we use one day (3) to sail in the bay of Navarino to learn about the sails and steering the boat.
Then the day (4) has come where we sail out of the bay. If possible we will find a harbour to stay in, this gives easy access to the shore in other situations we will have to drop anchor and use the dinghy to strech our feet.
Stops are mentioned in clockwise sequence.
Look at this spreadsheet for a full itinerary with distances and remarks.
For the itinerary for the shorter trip to Monemvasia, you have to read from the bottom of the list upwards.
In the sheet you not only find all the places that we visit, you also find the nautical miles that we have to sail in between places and the page of the books that have information about those places.
Nautical info is derived from Greek Waters Pilot from Rod and Lucinda Heikel. Touristic information is from the Lonely Planet guide over Greece.
At the end of the list you will find 3 undedicated days. Those days are spare. In principal we are sailing and try to use the engine as little as possible. So, maybe we have to wait a day for the proper wind. But, of course, if we have to, we will run on engine.
The itinerary is a little flexible. If there are spots that you are less interested in and have other spots that you think are worth while visiting, just write to me and we'll see whether we can make a change.
If you want to see some detailed nautical information, enter the Navionics electronic charts. It's the same as we have on board.
I'm not responsible for any loss or damage to you or your personal belongings.