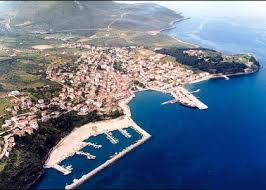 Being in the marina at Pylos allows for a splendid sailing experience. The marina is located at the bay of Ορμος Ναϝαρινου (Ormos Navarinou) This means, that we can exercise even when the weather is not perfect.
Sailing in the bay means not only protection for strong wind, but mostly protection for swell and waves that may be outside.
Sailing with Zephyr is a way to get acquainted with sailing in a "relaxing holiday environment".
If you have sailing experience or you book more then one week, we'll make a sailing program based on the weather and travel around Peloponnese or to Ionion Sea islands.
After this week
- you will have an idea what sailing is like and
- you will be able to give a good hand on a sailing ship.
The program is like this:
Day 1
Arrival, getting to know Zephyr and your cabin, how it is to live on a sailing boat, use of the kitchen, the toilet etc Some info about safety.
Day 2
Sailing in the bay. Getting to know the boat on deck level. Introducing you to the various mooring procedures (Mediterranean style, maybe getting water) , steering the boat while leaving the marina, steering on a landmark and on the compass. Doing some maneuvers with the engine e.g. sailing backward on the motor. We will stay in the bay and motor slowly to the North side, you sail downwind with the Genoa, back to the marina again. If you wish, you can experience dragging through the water behind the boat and some snorkling, all on own risk.

Day 3
No sailing. Getting to know the mainsail and reefing. Understanding the different sails. Introduction to navigation with Navionics. You will learn some basic knots and, if you wish a simple splice.
Rest of the day free to explore Pylos and surroundings.
Day 4
Sailing in the bay with headsail and mainsail. Tacking, Gybing, Sailing "butterfly".

Day 5
No sailing. Although it may be used when the weather is expected to be bad on day 6.
Free to visit Pylos (castle) and surroundings. You can take the bus to Gialova Beach and further (Divari Beach) and relax or make a hike to the castle there and around the lagoon with many flamingoes. Or visit the beautiful beach of Παραλία Βοϊδοκοιλιάς (Voidokilia Beach)

Day 6
Sailing out of the bay, giving you a touch of what it looks like to sail along the coast and feel the ocean swell. We start tacking North and sail towards the small island Proti.

Day 7
Departure.
Wind
Generally the wind blows from the North. That's what the program is based on. In case the wind blows from the South we change day 6 to a trip to Methony bay and back again. If the wind is too strong or not existing, we change the program according to the situation (day 5 is spare). Many a time the wind is very weak in the morning. That situation is perfect for showing and exercising things in the marina and doing first mooring exercise.
Level
What you get out of a week Sailing With Zephyr highly depends on the weather and you. This is NOT a sailing course where you end with a certificate of competence. It's a very relaxed introduction to sailing (long distance), in combination with exploring the area of Greece where Zephyr is located: Pylos and the bay of Navarino. The theoretical knowledge is based on your questions. We can talk about all aspects of 'liveaboard', as that is what I have been doing several times in different locations.
Cost
If you (max 2 persons) are interested, book a week with Zephyr. The ALL-IN cost are 150€ per person, food and logging, exclusive other harbour fees. I supply sheet and pillow with cover, you bring your sleepingbag. You can borrow my duvet/cover for 10€. No animals please.
Look in the calendar for available weeks. This is how you get to Zephyr.
I'm aware that the price is low. The reason is that I have no need to earn money on you. I like to show you what sailing life is about and have pleasure in doing so. The price covers my cost, so you just pay cost-price. That's it. :) Besides, we share the fun of cooking :D
Books
To prepare yourself for a sailing future, you can start reading these books (click on picture).
Disclaimer
I can't influence the weather, fortunately. If the wind is too strong or too weak, we'll try to rearrange the program.
I can not and do not guarantee that we can follow the whole program.
Neither can I guarantee that we will see dolphins on the day out (day 6), but chances are there.
I'm running this as a simple service to people to get to know what sailing is. If there are circumstances that make sailing impossible, you can still stay with me and use the boat as your hostel.
I'm not responsible for any loss or damage to you or your personal belongings.