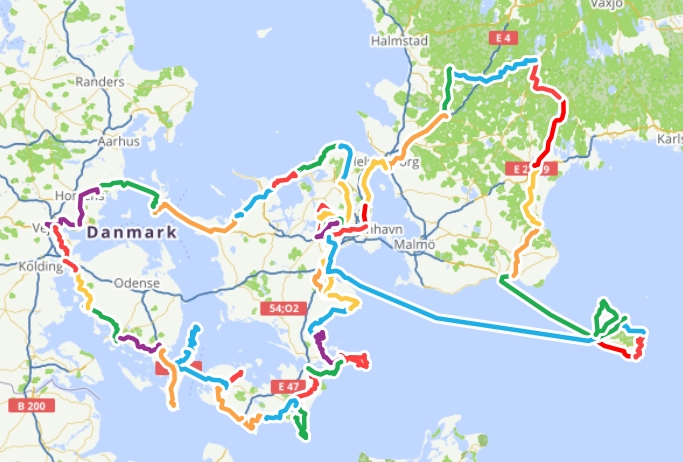 I was definitely not supposed to go on a bike ride in Denmark. Normally I would be in the Netherlands or on my boat in Greece, but this winter I promised my 2 children in Denmark to spend a longer time with them, so that we could do things together several times.
In spring I would cycle to Greece to sail for a while again. That would be a bike ride of about 4,000 km.
In the winter I had prepared quite well for the bike ride. For example, I went to the gym every second day to keep the muscles strong,
collected all the things you need on such a trip: tent, sleeping bag, cooking utensils etc etc It would all come in my trailer and bags to serve me on the road.
Slowly, however, the vague reports arrived, and in March the certainty, that the journey would be canceled due to an impossibly little bastard thing that could infect and eventually kill us all. We all just had to stay at home, including me, including Hannibal, as I had named my bicycle by now.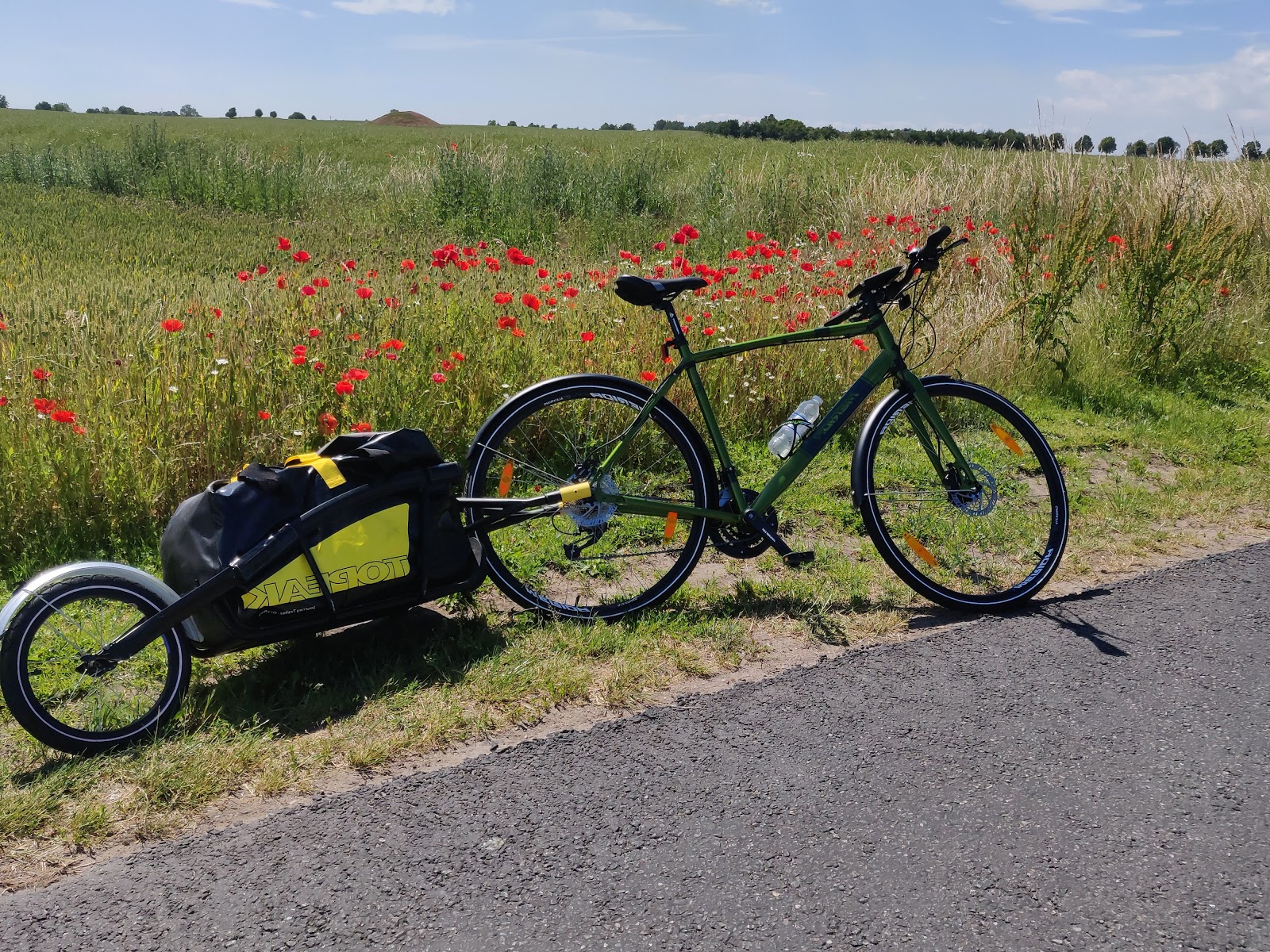 The Netherlands started to gather all its inhabitants from all over the world, so I also started to wonder if it wasn't the best thing to go back. On the other hand, Denmark is also a well-organized country, especially when it comes to the hospital system, so what risk did I actually run. I did, however, contact the German embassy about the possibilities of cycling to the Netherlands. Well, that was not possible. I was certainly allowed to return overland to the country in which I officially lived, but not by bicycle with the associated consequence that I would have to camp there for several days. And to buy a car just to drive to the Netherlands went too far for me.
So I made the decision to just stay in Denmark and see how things would develop.
Due to the later developments, I had already made the decision not to go to Greece at all this year. Mainly in order not to run the risk of being "caught" somewhere along the way in a country with less facilities because another wave of trouble would develop. In that sense I therefore chose the safe way.
In addition, I had decided to cycle to the Netherlands in the autumn and spend the winter there and then jump in the saddle in the spring and turn the pedals until I would be on the boat in Greece. So just everything a year later. The ultimate advantage of being a pensionist, freedom, happiness, just doing what I feel like and what suits me best in the current situation.
That is why the plan to make a bicycle tour in Denmark slowly came up.
I looked at existing routes on various websites. I had a lot of time to make the trip. The start was supposed to be early May and I only had to cycle to the Netherlands in September. So in total about 5 months.
Of course I knew that Denmark is a beautiful country. After all, I lived here for almost 20 years and saw quite a lot of it.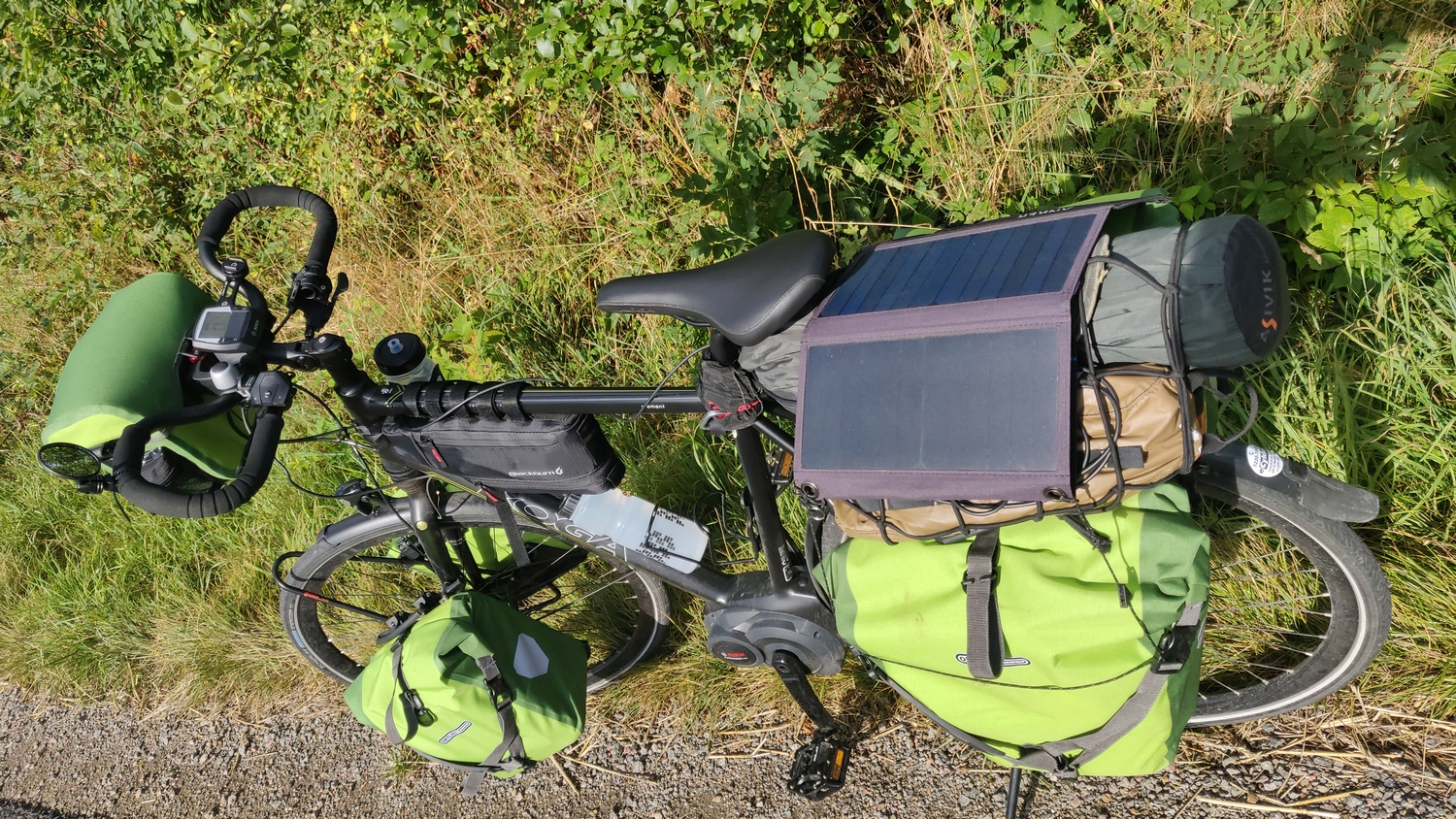 But, like many, you generally feel that on vacation you have to go "far away", at least where the sun is.
That sun argument still applies to me. I have always refused to camp in the rain.
On my current trip I have been very lucky, many beautiful dry and sunny days. Regular (head) wind of course.
Well, it could look like this: 5 months, 150 days with the idea of ​​cycling for 3 days and 1 day of rest. That resulted in more than 100 cycling days. If a cycling day is 50km, then the entire tour could become 5,000 kilometers. OK, that's a bit exaggerated, but it did show that I could make my trip very calmly and relaxed. In addition, 1 rest day is not entirely realistic because there could also be a few days of rain every now and then.
To make a route of about 5,000 kilometers you have to follow almost all coasts in a country as small as Denmark. DK has a total of 7,000 km of coastline.
With my somewhat maritime background (nautical school and sailing boat) the link is quickly made, because there are lighthouses along the coast. So when I make a trip where I visit all the lighthouses, I have a nice goal for my route. That resulted in a nice trip.
If I take all the routes together, I arrive at 4,879.5 kilometers. Even though that includes the distance to be traveled by ferry to visit various islands, it still gives a good idea of ​​what I started.
Here in Denmark there is not only beautiful nature. You can of course find that everywhere, depending on your wishes.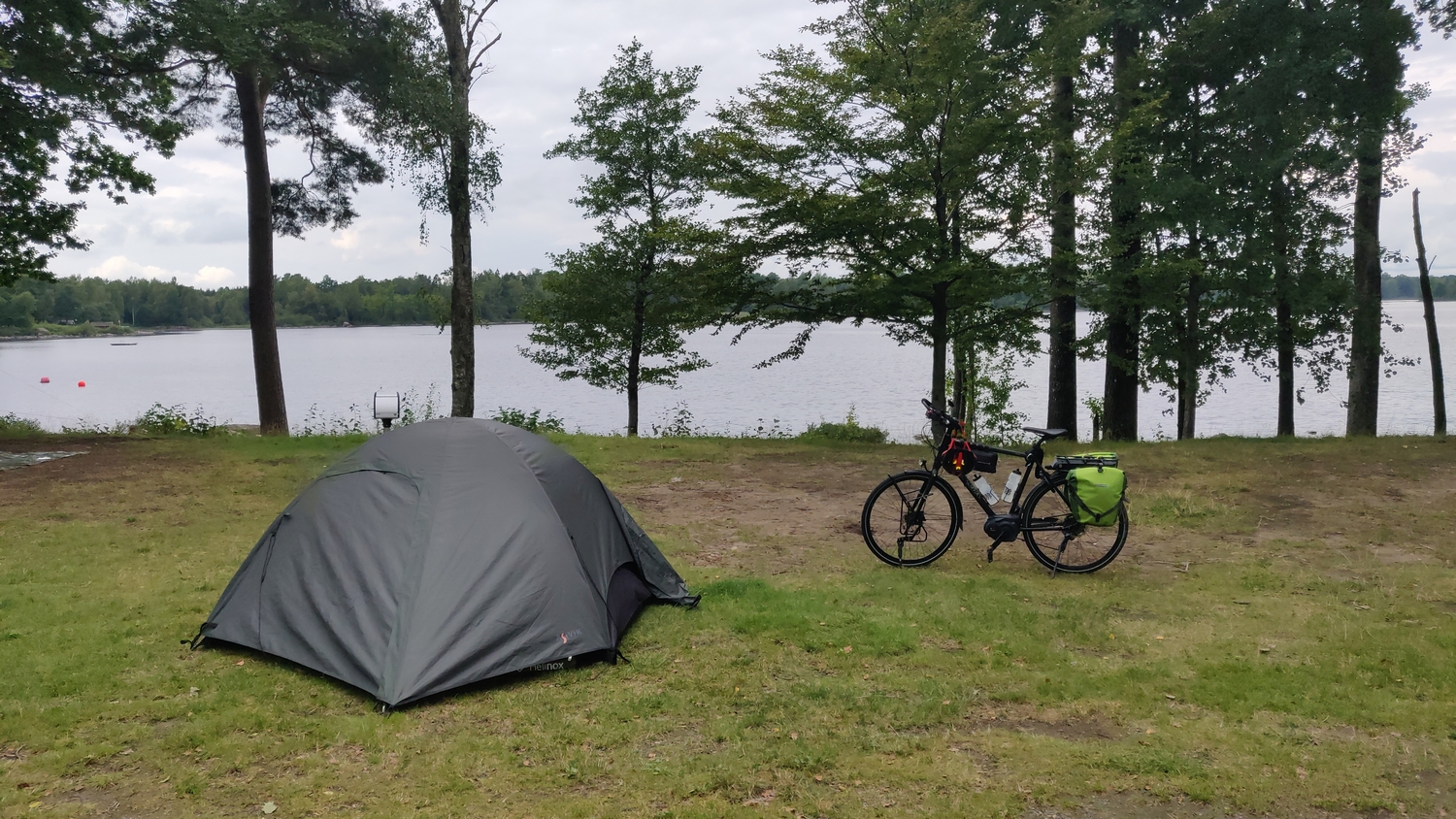 In Denmark there is also fantastic organized free camping. Not like in Norway and Sweden, allemansret (everyone's right), which is of course even better. However, I think that if a small country offers you more than 1,000 places, where you can pitch your tent, where you can often find drinking water and usually also a compost toilet, then it is really the country par excellence for a kayak, cycling or walking holiday.
Because that is true, you are (usually) not allowed (and often impossible) to get there by car, only in very exceptional cases the place is close to a parking lot. Often close to water, so you can spend the night here by kayak or small sailing boat.
Considering all that, I set out and visited the islands of Sjælland, Møn, Falster, Lolland, Langeland, Tåsinge, Fyn, Samsø, Bornholm and a part of mainland Jylland and Sweden.
All in all, it was about 2,500 kilometers by bike.
69 days, 9 islands and 20 lighthouses after the start, I am back where I started.
After the necessary cold nights and quite a bit of rain in the beginning of May, I finally left on May 19 for my first cycling day of 49 kilometers from Hedehusene to Store Linde. A quiet start because here I do not have to pitch the tent and sleep in the sleeping bag, but I am offered a bed in a normal bedroom. I am at home with my son and his mother.
Already the second day I arrived at the first lighthouse of the bike tour: Stevns Fyr.
This is followed by one tower after another, which once or still helps shipping navigate the waters of Denmark. Lighthouses were badly needed because in these waters there are many islands and shallows that pose a risk to shipping.
Traditionally, the lighthouses were real towers with a living fire on top, which had to be lit every night. Fyr is Danish for fire, which explains the names. There are various types of lighthouses, sometimes simple with a normal white light that switches on and off in a certain rhythm. The rhythm is then unique to that tower and therefore the sailor can recognize from a great distance which fire is involved. On Wikipedia you can find a few things about the various fire characters and types of lighthouses that exist.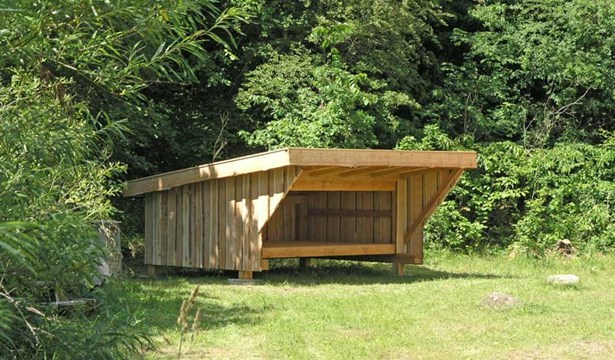 Today the function of the fires is taken over by the electronic GPS navigation. It will not surprise me if in 20 years or so there will be no burning lighthouses at all.
I used both campsites and free camping.
Denmark has many campsites so it was no problem to find a campsite every now and then.
The other overnight stays I used the fantastic way in which free camping in Denmark is organized.
Via the app "Shelter" or the website udinaturen.dk I was able to use one of those many places where you can pitch your tent for free. Most of these free places also have one or more built shelters. So even for travelers who travel without a tent, there is ample space to sleep dry.
Walking and cycling are the best ways to enjoy an environment. And thanks to Corona I have now discovered Denmark in a different way and enjoyed it enormously.
So a true recommendation.