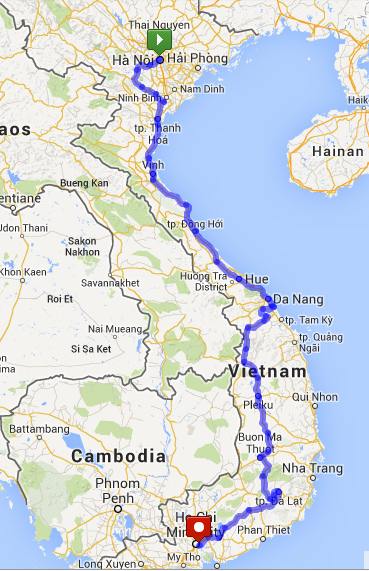 So I made the decision to go to Vietnam.
I was thinking about it some years ago already, now it had to be and to be sure, already in February 2018 I bought the ticket to Singapore. Flying on 1st of December.
After all, when you wanna book Hanoi, you have a stopover in SIN anyway. Now I plan to have a short look around for 3 days.
What I will look at in Singapore I will find out later, I now concentrate on Vietnam.
How long
Starting 1st of December 2018, ending 31st of March 2019, altogether 4 month. The ticket for the return flight isn't bought yet. I'll keep that open.
Maybe I like it so much in Vietnam that I want to stay a little longer :D
What to do
Ride a bicycle from North to South. When you consider the season that I'm going, it's more logical and easy to cycle in that direction because of the prevailing winds. I will not bring my own bike. I plan to buy one (second hand?) in Hanoi and try to sell it in HCMC again.
Itinerary
At the moment I'm collecting places to visit from internet (there are several blogs from people who have done that tour) and from groups on facebook that give information.
While reading all that info, I write places and info about it in a spreadsheet. After sorting the sheet, I make a map of it and use that to design my itinerary.
Via RideWithGPS I'll make routes that I will ride with my bicycle. See the map here, just realise that it's 'under construction'. Many places will be added.
From Hanoi I will ride east to the coast, go up north with a large curve to Sapa, continue a bit west and then slowly go in southerly direction. The route south will be partly along the coast and partly inland.
During the 4 month I don't plan to ride every day, I may also stay places for 1-2 weeks, in a homestay or rent an small apartment.
In the south I will of course look around the Mekong Delta and visit some islands.
RWGPS
At the moment I'm 'training' in Greece (where I live on my sailing boat) and make several bike rides per week to get some miles in my legs.
See here the training rides and later the rides in Vietnam. Using on PC and Android the website of RideWithGPS.