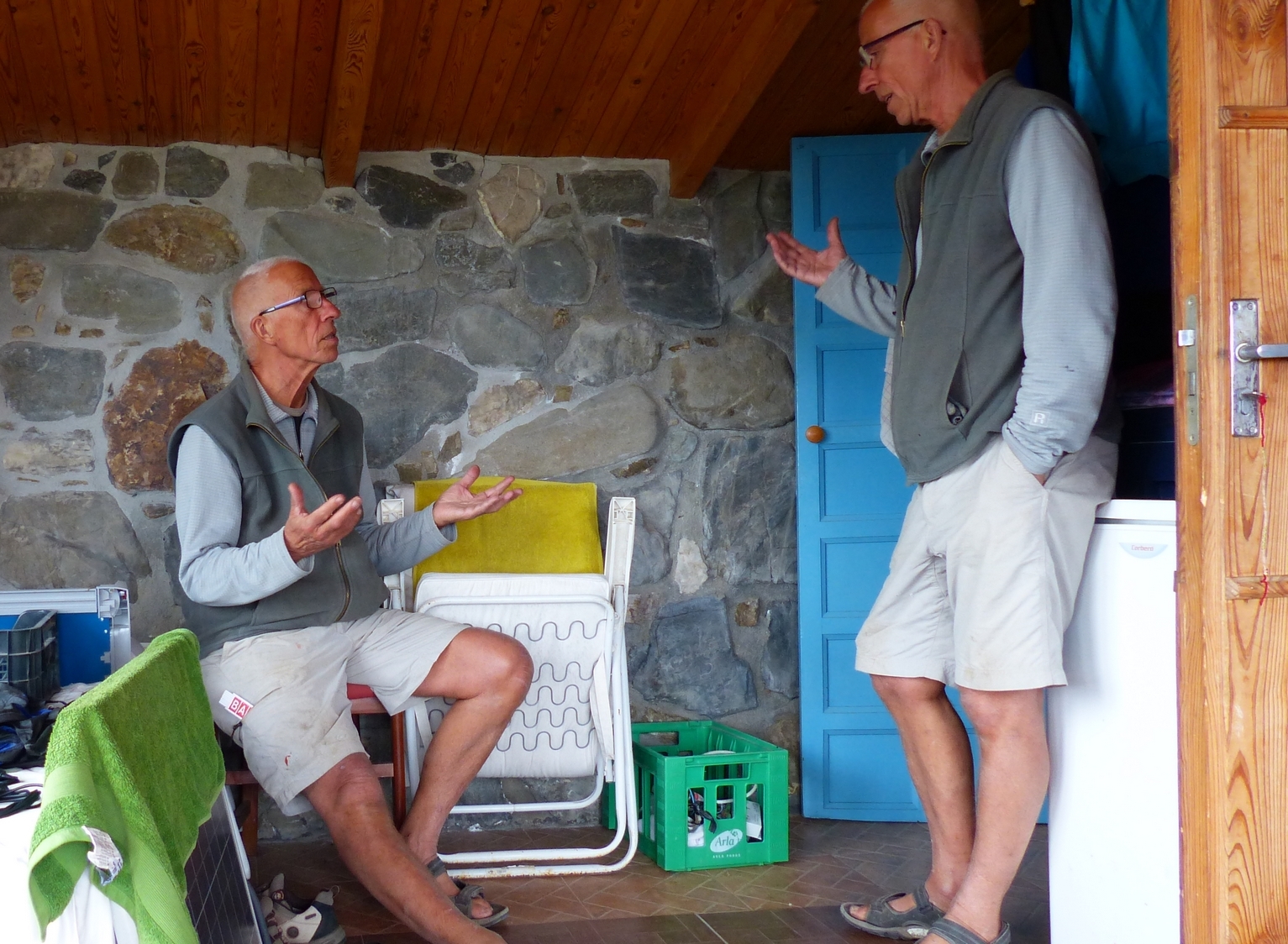 After two weeks of sailing and living the life on Zephyr, a Colvic Victor 34 sailing boat, with it's proud owner Hans, we now feel comfortable taking the next step on our sailing journey. This trip ,from Pylos southward via Methoni, Koroni, Finikounda, Kalamata, and back, marked the beginning of our navigation across the sea, and we could not be more satisfied. Hans, being a well traveled dutchman, great cook and a source of knowledge on the sea, gave us what we needed.
There is also good living- and personal-space. We learned the theory and the praxis of sailing, navigation, characteristics of different boats, Greek history told by the castle museum in Pylos, and lastly to cook tasty vegetarian dishes.
One never gets tired of the Feta cheese, tomatoes and olive oil from greece, simply the best. We experienced snorkeling in crystal clear waters among sea life and wrecks, visiting an island full of Ibex, beautiful small cities with good vibrations, long sandy beaches and ancient castles. For anyone thinking about beginning to sail, this is a good option to combine sailing with a vacation. Thanks again for your hospitality Hans!
Kind regards Karsten and Victoria
Charlie and I had an amazing week staying with Hans. He is a fantastic sailing teacher and host. He is very knowledgeable, patient and easy going. His boat is comfortable and he is also a great cook. We really enjoyed the schedule Hans set out for us as it allowed plenty of time for sailing and also exploring the nearby area which is very beautiful with many historic sights and lovely beaches. We would highly recommend a sailing adventure with Hans. It was a perfect holiday for us combing time to learn a new skill in a safe environment and time to relax and chill out.
Thank you Hans for all your help and wisdom- hopefully we'll be back soon. Robyn
Hans is a young and free dynamic spirited person who really knows how to enjoy life, with strong human skills. I met him when I arrived in Pylos with my own sailing boat, end June 2018. He first gave me advice regarding my mooring place, and invited me to move to a safer place. Then, he gave me countless tips regarding the city, the people, shops, and workers around, and built my global knowledge about sailing life in Greece. He of course lent me a bunch of tools when I needed them. I keep asking his opinion for sailing things and work. Hans is an experimented sailor, and I recommend you to learn by his side. Moreover, I have to say he is a pretty hard, early and precise worker. He created in a short time and under my eyes the nicest wooden made dinghy I've ever seen. To sum up, He is the best person I met in Greece, and now a precious friend!
Leo, French sailor friend
I crewed on this yacht from Brest (FR) to Malaga (ES) for a month and it was a lovely experience! Hans is an experienced boater, who is very willing to share his knowledge and life story. Very relaxed person and good company. His boat showed to be seaworthy and comfortable during the long journey. I admire him for his active lifestyle and healthy diet. I would recommend sailing with him even if you don't have any experience!
Dimitar, Bulgarian sailor friend
Managing properties/House sitting
Finca La Sacristia, Spain Hans worked on our finca twice as a volunteer ( 2011 and 2012), building a kitchen and a greenhouse. From 2013-2016 he lived with us, planning, working and managing our volunteers, building a strawbale-house and other smaller building projects under difficult circumstances like heat, steep grounds... We recommend him as a very reliable, responsible and honest person. He likes to help wherever he can. He is a technical and IT-Genius and also helped us create our website, FB, spreadsheets etc. He is working all day long, using part of the time for planning everything in detail and investigating new solutions in the internet. For his age he is very healthy, sportive and able to work both physically and mentally. He likes to communicate, has a big sense of humour and love for children.
Respectfully Maria, Primary school teacher and Hannes Völk, Yogateacher, farmer and musician
29791 Benaque +34 633503113
www.fincalasacristia.com
Hans spent three weeks in May 2019 on our house in Tilburg and our old male cat Max (21yo).
He is a neat, kind and sympathetic man who has done an excellent job with these tasks.
The contact was excellent and in cases we need sitting again, we would like to use his services again.
Fam. Kempff, North Brabant, the Netherlands / June 15, 2019 (via HouseSitting organisation)
House sitter and Gentleman:)
We entered this Community for our 6 weeks kayak trip in Greenland and settled for Hans for the "Job" because of his god and informative response and easy kommunikation. Hans Came a few days before and moved into our guest room. we had no or little possibility to have contact while we were away but Hans fixed everything and we received a cleaner House and a greener garden than we left behind us. All our 4 kats seemed happy with the company of Hans so surely the had had a great time in our absence. We can only recomend Hans as House sitter and hope he will come back next year!
Tidy
Organised
Good at pet care
Reliable
Kept in contact
Friendly
Good in the garden
Per & Anette, Copenhagen, Denmark / July 2019 (via HouseSitting organisation)